Your big day is fast approaching, and you're knee-deep in the exciting yet daunting task of planning every intricate detail. One aspect that can truly elevate your wedding's atmosphere and tie everything together is the choice of flowers. But with so many options available, where do you even begin?
Fear not! We've compiled 10 essential tips to help you navigate through this floral wonderland and make a stunning selection for your special day. From establishing your budget to deciding on a colour palette, selecting seasonal blooms, and working with a professional florist, we have all the bases covered.
This comprehensive guide will provide you with the knowledge needed to confidently select the perfect wedding flowers that suit your style and vision while making a lasting impression on your guests. So let's dive into these helpful tips that will ensure your wedding day blossoms beautifully!
Establishing your floral budget
Before getting swept up in the beauty of blooms, it's crucial to determine what you're willing to spend on your floral arrangements for your big day.
This budget should account for everything from bouquets and boutonnieres to centrepieces and ceremony decorations.
Start by researching the average cost of wedding flowers in your area or consulting with a local florist to get a general idea of pricing.
It's also essential to prioritize which floral elements are most important to you, as this will help guide how much you allocate toward each aspect.
Once you have an estimated budget, consider any additional factors that may influence your allocation.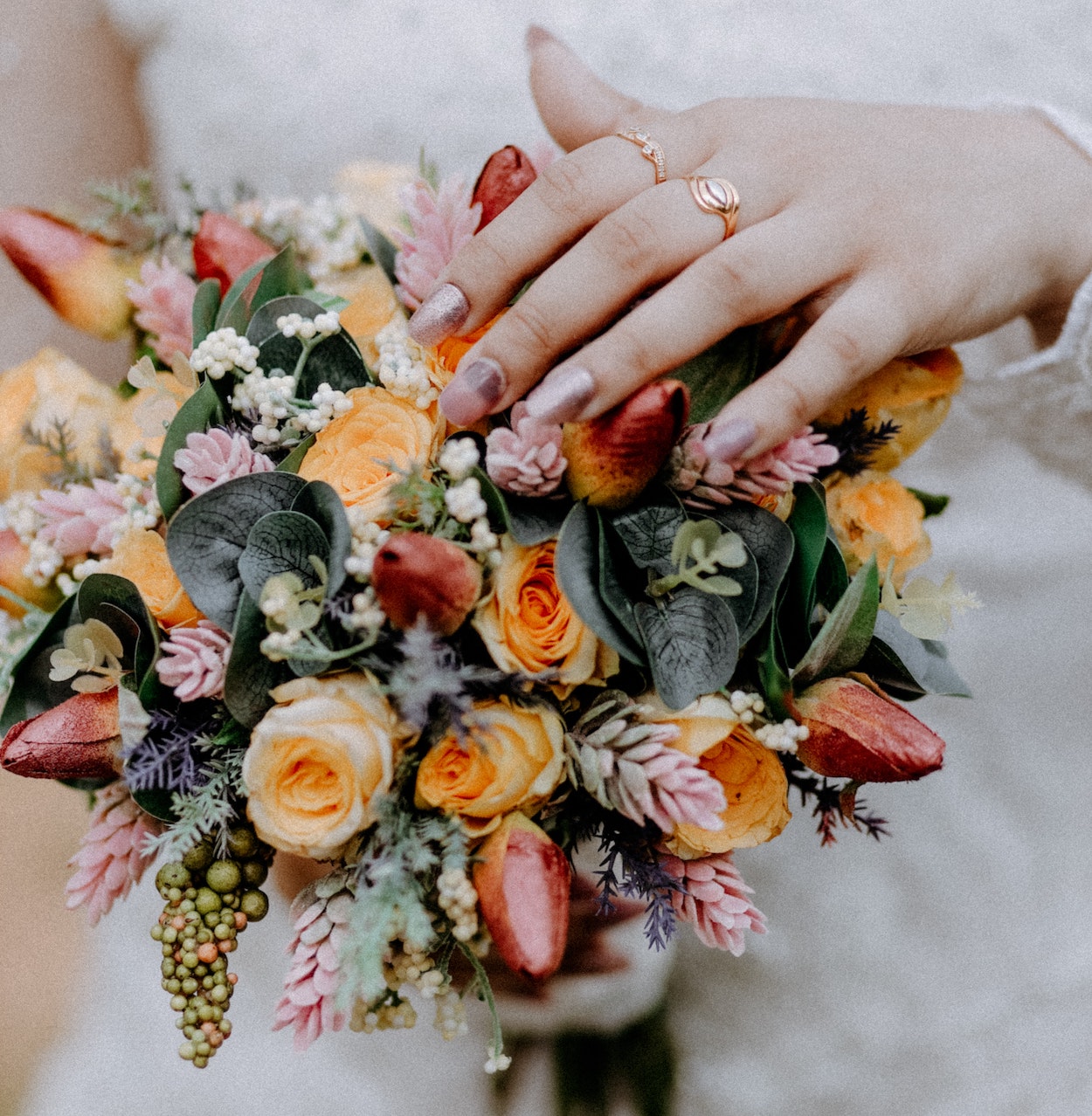 For example, if you're aiming for a more eco-friendly wedding, investing in locally sourced or seasonal flowers can not only save money but also reduce your carbon footprint.
Also, take into account whether certain desired blooms have higher price tags due to rarity or out-of-season availability; this could lead you to explore alternative options that still achieve the desired aesthetic while staying within budget.
Now that you've established your floral budget, it's time to think about how these beautiful blossoms will complement the overall theme and style of your wedding.
Keep in mind that colours play a vital role in setting the mood and ambience at any event! So let's move on to deciding on a colour palette that perfectly suits both your taste and vision for the big day.
Deciding on a Color Palette
Nailing down a colour palette is essential, as it'll set the tone for your entire celebration and make everything come up roses. Your wedding flowers should complement the overall theme and style of your big day. So, take into consideration both the season you're getting married in and any colours that might already be present at your chosen venue.
Look to nature for inspiration; think about what colours are typically associated with each season (like pastels for spring or rich hues for fall), as well as what shades will work well together without clashing.
To get started on creating the perfect colour palette, first, gather some visual inspiration—peruse bridal magazines, Pinterest boards, and even Instagram feeds to see which floral arrangements catch your eye. Take note of not only specific flower types but also their colours and how they're combined with other blooms to create a cohesive look. You can then use this information to guide your discussions with Events & Wedding Flowers Dubai or include it on a mood board when meeting with them.
Once you've narrowed down your options, They are experienced florists who can help bring your vision to life by suggesting complementary flower pairings and ensuring that all elements work in harmony. They'll have extensive knowledge of which blooms are available during certain seasons; hence, they can offer suggestions on how best to incorporate these seasonal offerings into stunning arrangements that fit within your colour scheme.
This expertise will prove invaluable as you move on to selecting seasonal blooms that seamlessly blend beauty and practicality while adhering to your desired aesthetic.
Selecting Seasonal Blooms
So you've got your colour palette sorted; now let's dive into the world of seasonal blooms and discover how to create stunning arrangements that'll wow your guests and make a lasting impression.
Choosing flowers that are in season during your wedding month not only ensures their availability but also helps keep costs down. Plus, seasonal flowers tend to be at their peak in terms of freshness, fragrance, and beauty.
To get started, research which flowers are in season around your wedding date or consult with a florist who can guide you through the options.
When selecting seasonal blooms for your big day, consider incorporating a mix of statement flowers and filler flowers to create visually appealing arrangements.
Statement flowers like roses, peonies, or dahlias can serve as focal points in bouquets and centrepieces, while filler flowers such as baby's breath or eucalyptus add texture and depth to the overall design.
Don't forget about greenery; it can provide a lush backdrop for your chosen blooms while adding an organic touch to the arrangements. Be open-minded when exploring different flower types; sometimes lesser-known varieties can offer unique shapes and textures that will set your floral décor apart from others.
As you choose your seasonal blooms, think about how they will complement both the venue and theme of your wedding.
For example, if you're having a rustic barn wedding in autumn, consider incorporating richly coloured foliage like oak leaves or maple branches alongside deep-hued blossoms such as burgundy dahlias or burnt orange calla lilies.
On the other hand, if you're planning a beachside summer affair, opt for bright tropical blooms like hibiscus or birds of paradise paired with airy greenery like ferns or palm fronds.
By thoughtfully selecting seasonal flowers that enhance both the setting and style of your celebration, you'll create unforgettable floral designs that seamlessly transition into our next topic: complementing your venue and theme.
Complementing Your Venue and Theme
Incorporating the right blooms and greenery into your arrangements can effortlessly enhance your venue and theme, creating a cohesive and memorable atmosphere. To achieve this harmony, start by considering the overall style of your wedding venue.
Is it rustic and outdoorsy or sleek and modern? Choose flowers that complement the vibe you're going for as well as the colors of your décor. For instance, if you're having a garden wedding with a vintage touch, opt for soft pastel hues like blush pink roses or delicate baby breath to create an ethereal ambience.
Next, let your chosen theme guide you in selecting appropriate floral accents. Are you going for a beach-themed celebration? Incorporate seaside elements such as seashells or starfish into your bouquets and centrepieces.
Or perhaps you have an opulent Great Gatsby-inspired soirée planned; in that case, consider lush arrangements featuring luxurious blooms like orchids or peonies paired with feathers and sparkling crystal accents to set the tone for a glamorous evening. Don't be afraid to get creative; remember that floral arrangements are not just limited to traditional flowers but can also include succulents, herbs, berries, fruits, or even vegetables!
As you work on finalizing your floral choices to complement both your venue and theme perfectly, don't forget that collaborating with a professional florist will make all the difference in bringing your vision to life. These experts possess extensive knowledge about different types of flowers and their seasonality while offering invaluable advice based on their experience designing countless weddings before yours.
In our next section, we'll delve deeper into how working closely with a professional florist can help ensure every petal is picture-perfect on your big day.
Working with a Professional Florist
Imagine walking down the aisle, surrounded by breathtaking floral arrangements that perfectly capture your vision and elevate the atmosphere of your celebration—that's the magic a professional florist can bring to your special day.
Working with a skilled and experienced florist can make all the difference when it comes to selecting the perfect wedding flowers for your big day. They can help you navigate through an array of options, providing expert advice on seasonal availability, colour coordination, and design trends while tailoring their recommendations to fit your personal style, budget, and unique needs.
When searching for a professional florist who aligns with your vision, be sure to take note of their portfolio or previous work samples. This will give you an idea of their artistic capabilities as well as insight into whether they have experience working with specific themes or styles that resonate with you.
Don't hesitate to ask questions about their process and approach to designing wedding flowers; this will not only help you understand how they work but also allow you both to establish a rapport early on in the planning process.
Once you've found a florist who understands your vision and has demonstrated expertise in crafting stunning arrangements, trust them to bring it all together cohesively. Keep communication open throughout the planning process; share ideas, inspiration photos, and updates on other aspects of your wedding décor. Every bit of information helps them fine-tune their designs so they're perfect for your big day.
Remember that collaboration is key. Let them guide you in making informed decisions while staying true to what makes your celebration uniquely yours. With a trusted professional by your side, beautiful blooms await!
Conclusion
In the end, it's all about combining elements that reflect your personality and style. Juxtapose seasonal blooms with a stunning colour palette to make your wedding truly unforgettable. Trust in your florist's expertise to ensure every detail is tailored to perfection.
Ultimately, love is in the details. By following these tips, you'll create a breathtaking floral backdrop for your big day that will leave an everlasting impression on everyone who attends.
Click here to subscribe to our print edition!
---
---
---