By Elina T. Htun | Ascot & Royale Ascot Racecourse is one of the oldest known tracks in sport, hosting the 1 HP racing with 7 competitors in 1711. The course was founded by Queen Anne at the nearby Windsor Castle. For more than 300 years Ascot has established itself as a national institution and Royale Ascot is the centrepiece of a busy British summer social calendar and the ultimate stage for the best racehorse in the World.
Click here to subscribe to our print edition!
In 2004 it undergoes a stunning 200BP-million redevelopment Ascot Racecourse was closed for the redevelopment of Grandstand, designed by HOK firm engineered by Buro Happold & built by Laing O'Rourke. In 2006 the new Racecourse was reopened by Her Majesty the Queen. There are 4 closures at Royal Ascot. Three for the public & 1 are the prestigious "The Royale Enclosure with access strictly limited. Today, Ascot Racehorse is a top popular in-demand venue for events: with 300+ meeting & conference rooms and an amazing Grand Atrium of over 4,000 square meters with its State of modern art exhibition space.
Thus, it is no wonder, that today the Royale Ascot Racecourse is not only the iconic sport tracks for horserace but also the most in-demand venue for holding important Festivals providing the perfect setting, to be a "firm favourite" for the special Historic Automobile Auctions' year calendar events, as it was this event during the Jubilee year, on May 18 – May 21, 2022.
ASCOT HISTORIC CARS AUCTION

 
Over 3 days, some 3000 first-time buyers, collectors and enthusiasts gathered at Ascot Racecourse to see the fine & impressive variety collection of classic historic cars representing almost every decade in Automobile construction, design & engineering. Many motor enthusiasts got the chance to snap up their favourite classic cars, beautifully preserved rare automobile models from 1906 till mid-2000, at this auction on May 21st.
The Auction has added an interesting diversity of classics & great supercars from mid-2000 like Ferrari 458 Speciale, a few Porsches & the exceptional 1972 Porsche 911T, the owned 2013 Aston Martin DBR1 replica by the renowned ASM in Norfolk, a super rapid  2012 Mercedes Benz AMG C63.  
In the centre of all these supercars models, it was the great 2011 McLaren MP4-12. This is the very 1st car produced in 2011 since the legendary McLaren F1 GP race car.  Designed by known Frank Stephenson (who also designed the Ferrari F430) and built using a great deal of the McLaren Formula One technology program. 
There were over 200 entries, displaying cars from highly affordable to most desirable collectable high priced ones. 
VINTAGE: Brasier 15hp -Entrance Tonneau 1906, Renault 1907 Tourer, a real & a 1932 Riley Nine Monaco one of the most successful light cars produced by the British motor industry during the inter-war times by Riley brothers Percy & Stanley.
PREWAR: A 1933 Morris 10/4 Salon, which marks the transition from mechanical brakes to Lockheed hydraulic brakes. This car was 1st time offered in an auction after 46 years. 
Alvis 1936, 1937, & in a great shape the rare 1937 Packard 120 Sport Coupe, one of the 20 significant first manufactured in Detroit Michigan, being then the most competitive mid-price 8-cylinder car on the market. The plate on the engine shows that this car is a right-hand drive Packard and was delivered to Leonard Williams & Co. Ltd of London in 1937. In 2018, this Packard car had been featured by the respected publication "Classic American" as a rare piece of a pre-own car.
POST WAR: Many great Jaguars from the '50s, '60s through '80s. 1951 Jaguar MK V (3.5 litres) was originally produced & introduced at the 1948 London Motors Show. Next to it, great fun to drive was a 1958 Jaguar XK150 Roadster (3.4 litres) resembling the XK120 & XK 140, this 1958 Jaguar was radically modernized.
We found a 1961 Jaguar Mk.II (3.4liter)build between 59' & 67' with powerful 3 six-cylinder twin cam engines. MK. I& II 3.4-liter engine variant & 210 bhp. Due to its excellent performance on the track and great success driven by the top drivers of that time, Graham Hill, Roy Salvadori Michael Parkes who have scored victories in the Tour de France & Monte Carlo rally.
As the 2022 year marks the 70th Platinum Anniversary of HM Queen Elizabeth's reign, it is significant to mention that it was a 1950 Rolls Royce Phantom IV used during Queen's coronation in June 1953. Built by Charles Rolls & Henry Royce (from where got the name) the 1st historic 10hp car, was unveiled to the public at the Paris Salon in December 1904. For more than 100 years RR had been considered the timeless Rolls Royce is considered a timeless collectable historic prestigious car.
On Jubilee year celebration – the Historics Auctioneers had included in the auction a rare & remarkable Rolls Royce cars: Phantom VI & VII, Silver Shadow I, II, III & two Corniche Convertible from 1974 & 1978.
Beautiful 1973 Rolls Royce Phantom VI, & 1976 Silver Shadow I. The Rolls Royce Silver Shadow was released to the public in 1965. This imposing 1976 Rolls Royce was supplied new in1978 by world-famous dealer Jack Barclay & Sons and run well on the road for 46 years.
Bentley – following Rolls Royce, England Bentley company was founded by W.O. Bentley in Cricklewood (North London) in 1919, & by 1924 with participation in 24 hours of Le Man's race, became a big attraction among the race drivers & fans of that time, continuing to win the race in 1927,1928, 1929 & 1930.
The 1955 Bentley R-Type is its final integration with RR Silver Dawn
Early 2000 to 2015 – Represented by: Ferrari Italia 458S Speciale
2004 Ferrari 612 Scaglietti
2005 Ferrari 575M, 2006MG ZTV8260
A Ferrari 456 GT which had made its debut in a public show in Paris, as a prestige sports car & maintaining its position at the head of the world's most desirable automobiles.
But it was the 2015 Ferrari 458 SPECIALE 210mp, 0-60mph in2.8" value set 2595,00GBP-350,000GBP. The successor of the F430 the car was entirely new and designed & had incorporated the technology of Ferrari Formula 1 famous racing cars driven by Michael Schumacher the GP 7th World Champion with Ferrari participation & Kimi Raikkonen as a driver. The car had created the highest competition & exciting suspense to see who the bid winner & take home this impressive speed car.
Following the 2015 Ferrari auction, next taking the stage 2011 McLarenMP-4 12. This is the 1st road car built using the high technology program of the race car F1 McLaren. Based on its High technology, and engine power, for close to 40 years McLaren continued to remain an F1 GP race-winning constructor team with 8 WCC.
From the beginning, McLaren's race car was driven by the great drivers known in GP race history and became one of the top competitive race teams on the track. The Team was founded in 1963 by Bruce McLaren, debuting in GP Monaco in 1968 & winning his first race GP Nürburgring in 1969. The legendary Ayrton Senna – with 35 wins, followed by Mika Heikkinen's first World Championship win in 1999. Then from 2000 on, we have F1 World Champion the Finn Kimi Raikkonen driving for McLaren winning in Malaysia in 2003, followed by British McLaren driver Jensen Button the 2009 World Champion, and the unstoppable we all know – Lewis Hamilton who in 2008 driving for McLaren, he became the youngest World Championship winner in GP history.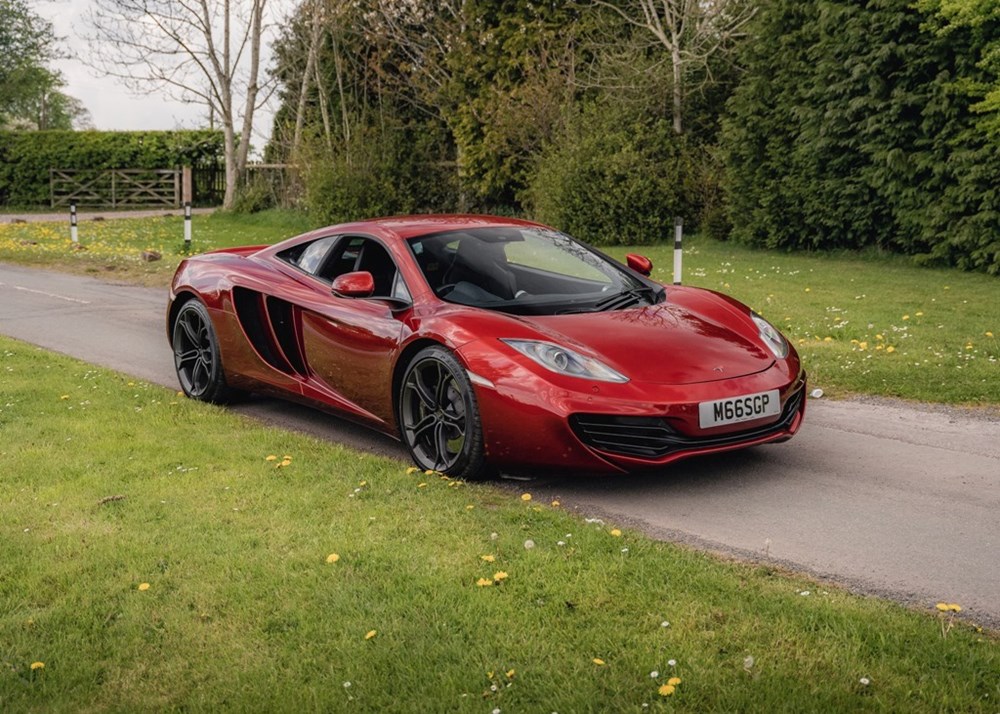 The Historic Auctioneers brought to the public the 2011 McLaren MP4 C12 to the car collectors, a unique Supercar which combines the features of road car requirement needs & the power high velocity of its owner-driver dream.
Other cars which had my attention:
1966 Pontiac GTO Monkee – mobile, created in New York from a Pontiac GTO by James Benken. It was shipped to the UK just at the time when in 2011 Monkees started their 45th-anniversary tour in Liverpool. The owner of the car was the Tour driver & the band adopted the car and it was included in their 1970 TV filming series.
2013 ASM DBR 1 Replica – in 2017 only 5 cars went for 1st time in auction & sold for $22.5M, a world record for a British car.
The Aston Martin DBR1 was the company owner's ambition to win the world's sports car race for 24 hrs. Le Mans where in 1959 he succeeded to win the race & take the podium. They continue to build ASMs, & in 2007 Andrew Soar of AS Motorsport build an ASM R1 Le Mans, his cars being considered an example of great British craftsmanship.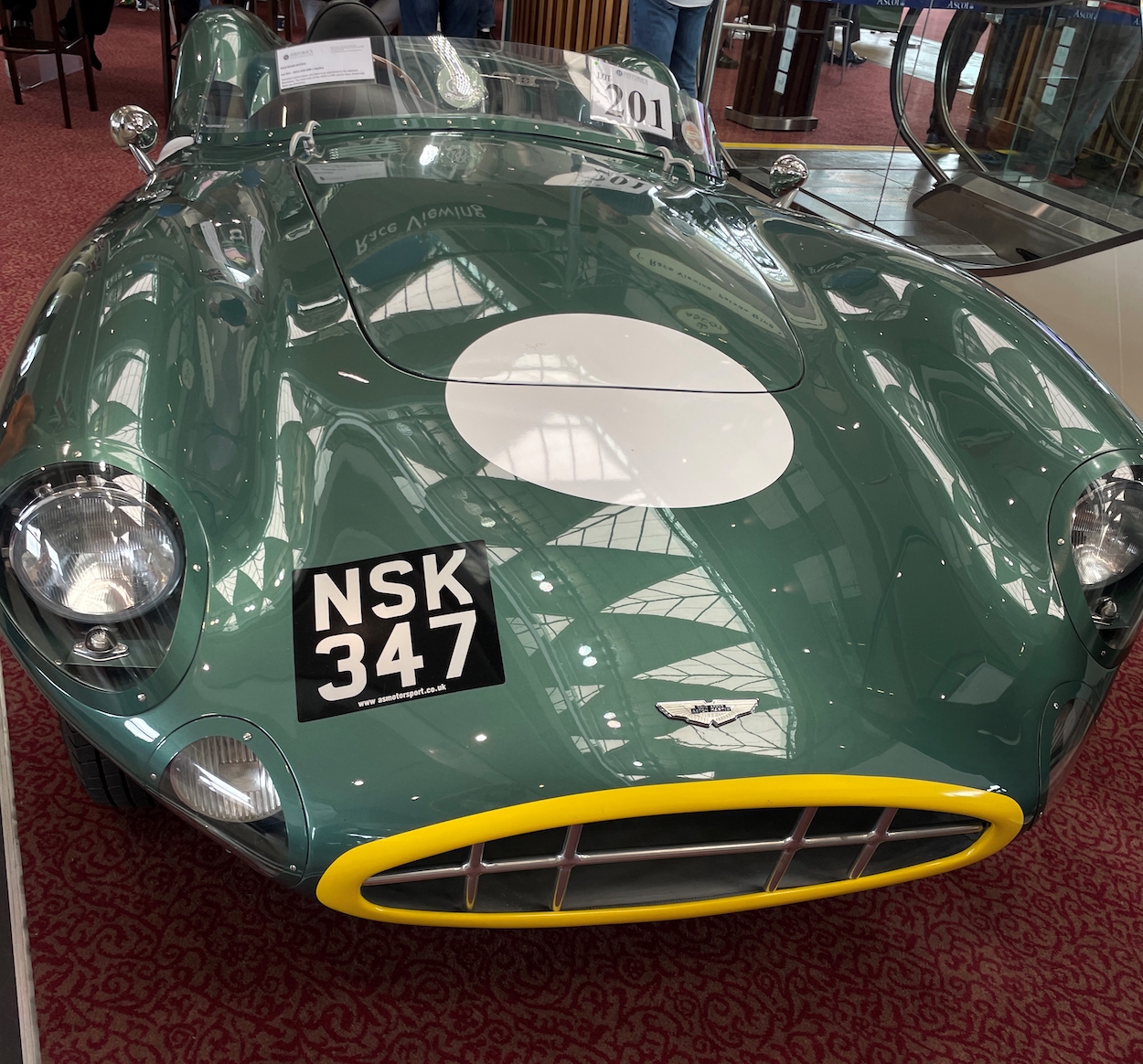 ---
---
---