Renault Sport Formula One Team driver Carlos Sainz made his World Rally Championship debut in the final stage of the 2018 Rallye Monte-Carlo.
The 23-year-old Spaniard followed in the wheel tracks of his double World Champion father, Carlos Sainz, when he got behind the wheel of a New Renault Mégane R.S to tackle the last stage of the iconic rally. Carlos acted as the VIP course car to take on the 13.58km SS17 La Cabanette-Col de Braus stage that ran through the Alpes-Maritimes surrounding the Principality of Monaco.
The stage, which was the closing stage of the 2018 WRC-season opening rally, started at 1,400m above sea level and descended through a series of tight hairpin bends before climbing again over a high mountain pass and ending at the Col de Braus. The New Renault Mégane R.S was equipped with studded, snow tyres that helped Carlos negotiate the icy, slippery conditions.Renault has a long history of competition in Rallye Monte-Carlo. A privately-entered Renault won the 1925 edition of the rally and a Renault Nervasport took victory in the 1935 event. Jean Ragnotti was victorious in the 1981 rally with the Renault 5 Turbo, while 2018 marks the 60th anniversary of the 1958 win with a Dauphine spéciale driven by Jacques Féret and Guy Monraisse.

Carlos Sainz Sr won Rallye Monte-Carlo three times, in 1991, 1995 and 1998 and the World Rally Championship drivers' title in 1990 and 1992.
Carlos Sainz: "That was very special. I have dreamt about doing this a lot of times in my life and now thanks to Renault it has come true. I have always wanted to do a rally with a co-driver, pace notes and a good pace and I loved it. The car was really good. It had different modes of driving that I was testing to get fully comfortable. You had the race mode, sport mode and a bit of traction control that you could adjust. The steering was very accurate and the suspension was stiff for the twisty sections so I was really enjoying it a lot. It was a fantastic experience – quite slippery in places to give the full Monte Carlo experience! My dad just told me to take it carefully, but I had a lot of fun. Thanks to everyone for the opportunity."
Patrice Ratti, Managing Director of Renault Sport Cars: "Eight months after its camouflaged appearance at the Monaco Grand Prix, the New Mégane R.S. has made another public outing, this time on the roads of the 86th Rallye Monte-Carlo, before orders start to be taken in February. We couldn't have dreamt of a better setting to highlight the New Mégane R.S. qualities, including 'best in class' chassis, which links performance, agility and stability and its competition-inspired design. I am particularly proud that Renault Sport Formula One Team driver Carlos Sainz, who is also a former Formula Renault champion, lent us his talent for this demonstration run. His participation expresses the close links that unite our sporting range to Renault Sport Racing."
Carlos Sainz Sr: "I'm very happy that Carlos has experienced a taste of such a legendary rally. Monte Carlo was, and still is, a very special race for all motorsport fans. Carlos has driven rally cars before, but experiencing the roads of this particular event is different. I gave him a couple of tips, but the most important one was 'enjoy' ".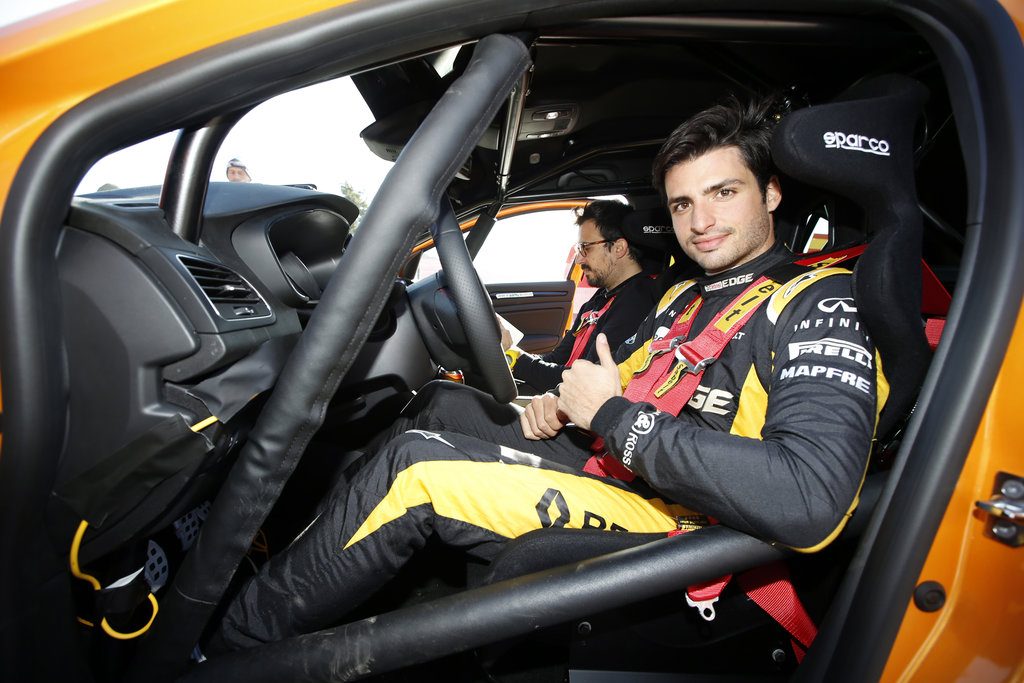 ---
---
---