Frontier Developments PLC (AIM: FDEV, 'Frontier') welcomes players into the illustrious F1 paddock in the officially licensed Formula 1 management simulation as F1 Manager 2022 launches on early access today for those who pre-ordered digitally on PC, PlayStation 5, Xbox Series X|S, PlayStation 4 and Xbox One. Players who purchase the game digitally before August 30 can play immediately and will receive 10% off the suggested retail price of £44.99/$54.99/€54.99.
Click here to subscribe to our print edition!
As the summer break comes to an end and F1 returns to circuits and screens around the world, it's time for fans to become part of the paddock.  In F1 Manager 2022, players will take control of their chosen F1 team, leading them to glory throughout the official 2022 season and beyond. Stepping into the role of Team Principal, they will need to balance short-term success with long-term objectives as they aim to establish themselves as a dominant force in the world's most prestigious motorsport.
Whether they are new to F1 or a long-time supporter, players can get up to speed on all the key areas of their new job role ahead of the season opener thanks to an optional in-game player guidance system, which will support them across the opening race weekend as they take their place on the pit-wall.
Each circuit on the 2022 calendar has been brought to life, and fans will see this season's regulations shake-up reflected in visually detailed cars inspired by these new rule changes. Trackside broadcast cameras and a variety of onboard angles from each car will fully immerse players in every thrilling moment, allowing fans to direct their own TV experience as they watch drivers battle to secure vital championship points.
Between race weekends, fans will steer the development of their cars, drivers, headquarters and staff to take their team to the top step, aiming to cement their own legacy as one of the all-time greats. Will they choose to balance resources to extract performance across the current season or invest in future car development? The choice is up to them.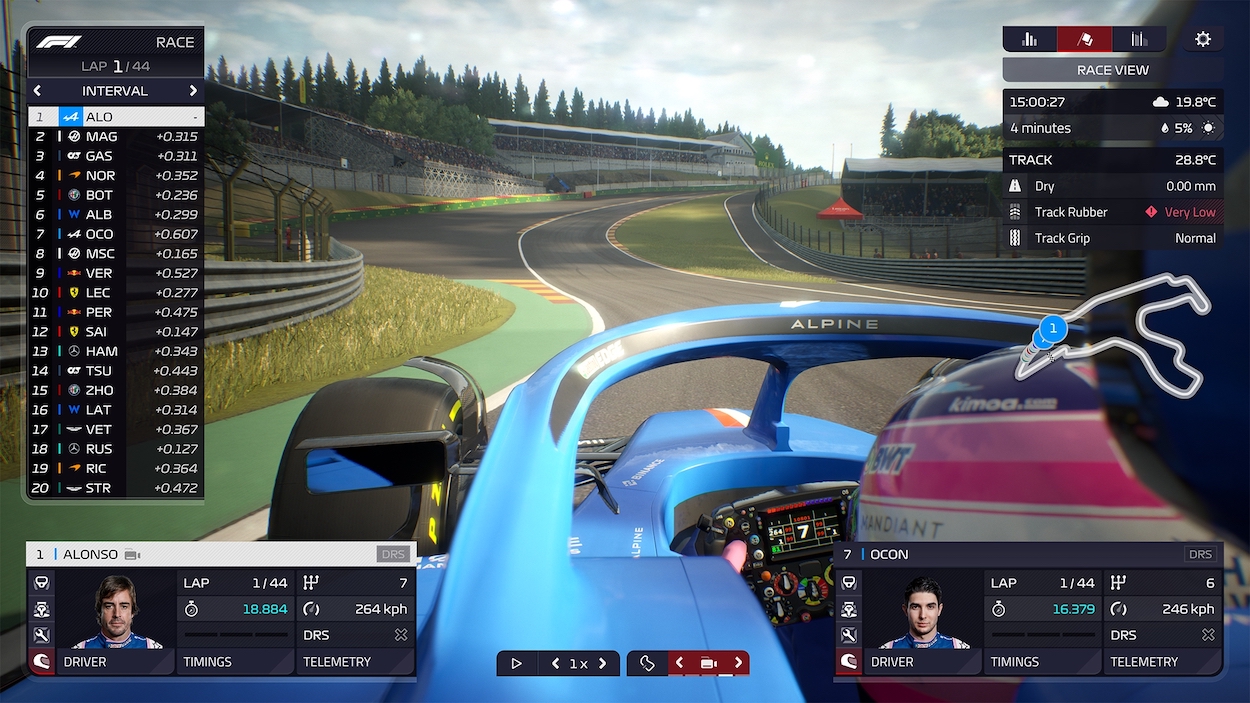 From lights out to the chequered flag, every moment counts. In practice sessions, drivers will build their familiarity with the car and the circuit, providing key feedback to allow Principals to direct their engineering team to optimise their car's set-up ahead of the all-important qualifying session. On race day, Principals will adapt their strategy using detailed real-time data, and instruct their race engineers to issue authentic team-radio commands to their drivers as they react to race events, such as safety cars and red flags. They will also have to keep one eye on their weather radar, with dynamic weather across each session offering opportunities to those who read the conditions correctly.
As fans prepare to lead their team into their first race weekend, Andy Fletcher, Game Director, said; "We are delighted to lift up the garage doors and invite Formula 1 fans to step into the role of Team Principal, experiencing a hyper-realistic simulation as they take the hot seat at one of the ten 2022 F1 teams. As passionate supporters ourselves, we're proud of what we've achieved in bringing the broadcast experience to life with authentic cars, drivers and circuits, offering depth in every decision that we know players will love debating! We can't wait to see their stories unfold, and how they take their team to glory."
About Frontier
Frontier is a leading independent developer and publisher of videos founded in 1994 by David Braben, co-author of the iconic Elite game. Based in Cambridge, Frontier primarily uses its proprietary COBRA game development technology to create innovative genre-leading games for personal computers and videogame consoles. As well as self-publishing internally developed games, Frontier also publishes games developed by carefully selected partner studios under its Frontier Foundry games label.
About F1 Manager 2022
Drive every decision in the officially licenced F1 Manager 2022. Players will select their team and be the boss with the full 2022 roster of drivers and key staff. As Team Principal, it's on their shoulders to take control and compete in the world's most prestigious motorsport, delivered with unparalleled authenticity and broadcast-quality presentation.
---
---
---