In an exclusive interview, Paddock Magazine catches up with Pirelli's Motorsport Director, Mario Isola, to hear about the challenges of designing an F1 tyre, sustainability, and much more.
Click here to subscribe to our print edition!
Formula 1 is booming, and racing has significantly improved, but what's it like for the tyre supplier?
First of all, I totally agree with you! [Smiles] I think the sport has taken a massive step in the right direction with the new regulations this year. It was challenging for us to design new tyres because the size and the characteristics also changed. To improve the performance, we had to develop a tyre that isn't so sensitive to overheating. Another critical factor is that we designed a tyre with a lower degradation level. Actually, the new cars helped our work, because when you follow another car and don't lose downforce, you can push more on the tyres. I think the drivers are happy with the changes we made.
We have a simulator in Milan, and it's also used for road tyre development.
On the other hand, we learned that these cars have understeer in low-speed corners, and we want to solve that from the tyre point of view. We need to improve some details for next year, and we know that. It's mainly because we developed this year's tyres on an older car. Overall, Formula 1 is in excellent shape, and there is a lot of interest in the sport. It's great to see many new and young fans in the F1 community. We have many young drivers on the grid who are very active on social media – it's a great platform to engage people. It's unbelievable to see how the sport is getting more popular in the USA, for instance. I do hope it continues like that!
Can you take us behind the scenes of the process of designing an F1 tyre?
We always start with a virtual tyre, so we design a tyre on the computer. Then, we create a thermomechanical model and provide it to the teams, which they can use in their simulators. We need to perform several tests on physical prototypes before we test them on track. It's not only an integrity test, but we also perform a test to predict the performance of the tyres. The last test—let's call it validation—is the track test. To give you an idea, initially, we started 70 virtual prototypes, but we only tested 30 compounds on track. There are lots of activities that we do before track testing. All the lessons we learn through F1 tyre testing and designing are also used for our road tyre development. We have a simulator in Milan, and it's also used for road tyre development. 
How large is your R&D team?
We have hundreds of engineers in our R&D department. Moreover, we have smaller R&D departments in other countries, like Germany, Mexico, and Brazil. In total, we have around 1,000 people dealing with our motorsport activities. We have two factories that are dedicated to motorsports, one of them is in Romania, and the other one is in Turkey. 
How many championships does Pirelli currently supply? Do you plan to enter some new categories as well?
Currently, we supply more than 230 championships around the world. It's a vast number, without a doubt. We focus on GT racing because we believe that GT represents the closest connection between a race tyre and a road car tyre. We have been in the rally for a long time – it's in our DNA. We supply many junior categories, just like touring cars and other single-seaters. At the moment, it's hard to say that we'll definitely expand our activities any further. Of course, we keep our eyes open, and if there's a great opportunity, we're always available to grow and face new challenges. We're delighted with our Formula 1 activities and are here to stay. Our contract expires at the end of 2024, but it's not a secret that we'd like to continue. The level of technology is unbelievable. These cars are open laboratories equipped with many sensors, and we can collect vast amounts of data. To be honest, the engineers working on Formula 1 are crazy – in a good way. They pay attention to minor details and do a fantastic job. It's unbelievable to see the top 5 cars separated by less than one-hundredth of a second. It's incredible. We learn, develop, and grow through our motorsport activities. 
What's it like to be the exclusive tyre supplier for Formula 1?
It's a challenge, no doubt. When I started my Formula 1 journey more than 20 years ago, it was a different story because we had a competitor in the sport, and our main focus was on the performance side. We need to produce a consistent and suitable tyre for all teams and provide the same level of service to everyone on the grid. To be honest, we really like this challenge. We have excellent cooperation with the teams. Therefore, we work well together. 
We're the tyre supplier for the best championship in the world.
Can you tell us what happens to a used Formula 1 tyre?
Well, sustainability is one of our main priorities. It's a long-term project that started many years ago. We collect all the tyres used during a Grand Prix weekend, including Formula 1, Formula 2 and Formula 3. We send the tyres back to the UK. We have a technical centre there. We recycle all these tyres for energy generation, which are burnt at high temperatures. We're currently investigating other ways to reclaim our tyres as these materials might be used in other applications. There are a few possible solutions under consideration, and we're working hard on them. Last year, we received a three-star accreditation from FIA. If I'm not mistaken, we're the only tyre manufacturer worldwide with such an award. It's not an easy certification to get. FIA checked all our processes before granting the award. Moreover, we have several ISO certifications. We take our responsibility for the environment very seriously. 
What has been the biggest challenge for Pirelli since the brand re-entered Formula 1?
To be honest, we face new challenges every day. We lacked test days to develop our tyres properly a few years ago. As I've already mentioned, we've got a lot of activities before producing the first physical prototypes. However, the final validation and approval are done on the track, so it's necessary to have a decent amount of time on track. When you look at the performance of these cars, it can't be compared to any other category. The evolution of these cars has been incredible in the last couple of years. The stress these cars put on the tyres is extraordinary, as F1 cars got even heavier this year. It's not rare to see 1000 kg of vertical load on one single tyre, which is enormous.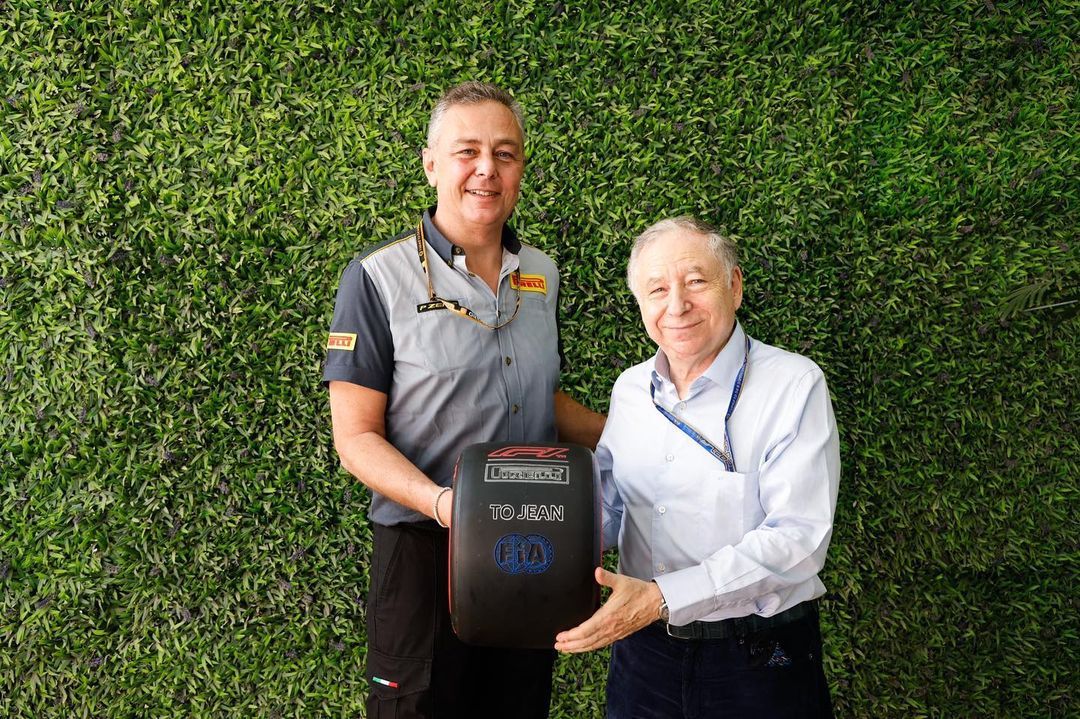 Can you see the positive effects of F1 presence on the brand itself?
I believe that our investment in Formula 1 was a pretty good one and improved our company's image. Formula 1 is a great platform when it comes to marketing and branding. My personal perception of Pirelli differs from 12–13 years ago. The brand Pirelli is now associated with Formula 1. In our view, Formula 1 means the pinnacle of speed and technology. I can say that we're the tyre supplier for the best championship in the world. Some people might think it's an easy task to design a Formula 1 tyre, but trust me, it's not easy. We need to follow many directives and the development of teams. It's incredibly complicated, and small details can make huge differences. 
---
---
---