Today, with almost every product readily available in the market, personalisation has been one of the prioritised selling points of most brands. Moreover, all-in-one also seems to be the jargon for various brands due to the market's need for a product that could fulfil their varied demands.
Garmin's take on the issue comes in Garmin MARQ Series. First launched in 2019, the collection is now comprised of seven luxury smartwatches. Each product is crafted for specific needs that Garmin catered to from flying, racing, sailing, exploration, sports, and tactical activities.
MARQ Aviator for pilots
MARQ Commander for soldiers
MARQ Captain for seafarers
MARQ Driver for professional racers
MARQ Golfer for golfers
MARQ Athlete for professional athletes

 

MARQ Adventurer for backpackers
The idea behind the MARQ series is to provide a helping tool for said professionals on top of your regular Garmin smartwatch. So, more than just answering calls, receiving notifications from your phone, and tracking your fitness, each timepiece is equipped with customised core functions.
Unlike its six other friends, the MARQ Driver is the first of its kind among Garmin smartwatches. From a practice day at the circuit to taking a break in the wilderness, MARQ Driver is here to assist you. Here we have concluded some of the best features included in the smartwatch, let's find out!
First things first
Before we go into its features, let's cover the basics. The Driver is a 128g of smartwatch goodness, mostly made of titanium, except for its tachymeter ceramic bezel, domed sapphire crystal lens, and silicone rubber linking the smartwatch's bracelet. The sleek and modern design is sure to be your best friend on the tracks or as you sip your celebratory drinks afterwards.
As for the size, the smartwatch is 30,4 mm diameters wide, with a 1,2 inches display. It is equipped with 32GB of internal storage and preloaded apps for other sports activities and your music needs, such as Spotify and Deezer.
Race anywhere, anytime
Thanks to its extensive preloaded list of racetracks around the world, you can now simply turn on your GPS and let your MARQ Driver locate the nearest tracks around you. All you have to do next is select your preferred track and go through the starting line. Then, the Driver would automatically start the timer for you.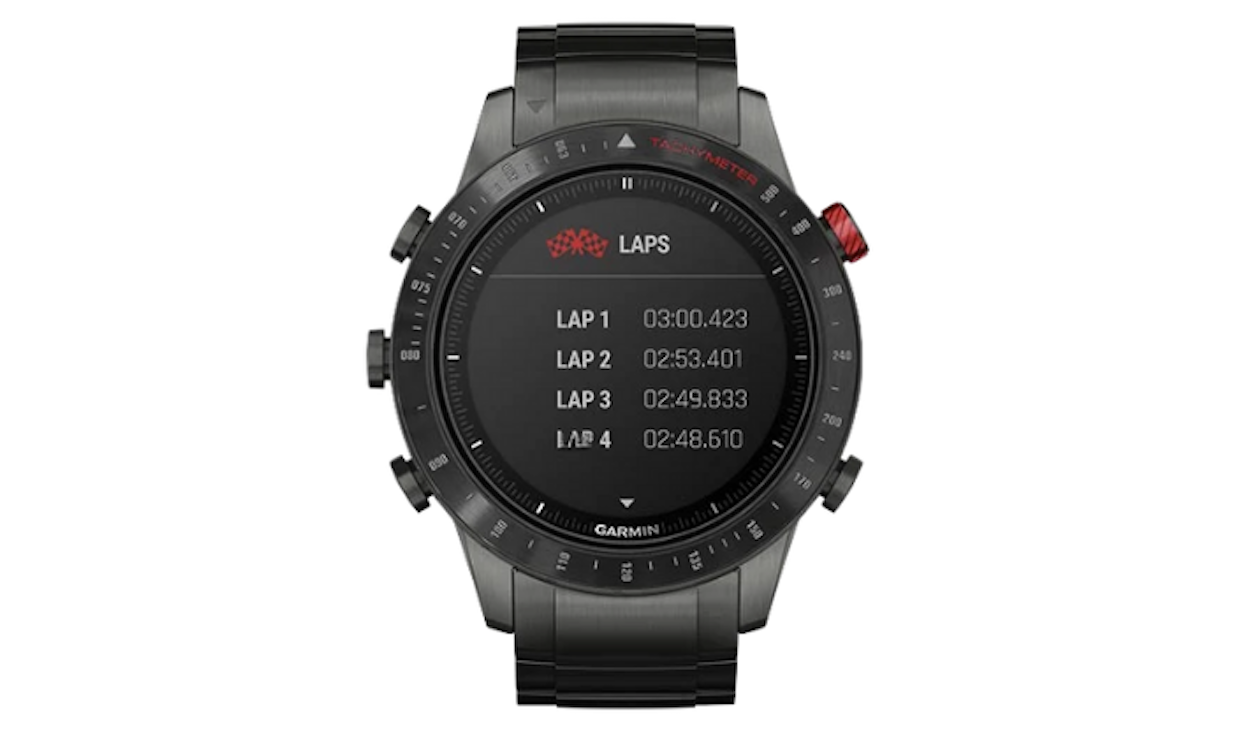 As the smartwatch knows your track inside and out, you can breeze through the circuit as many laps as you want; the Driver got you covered. You can even get MARQ Driver to memorise your own track outside their database with minimum teaching. All you got to do is determine a starting point and go through the circuit one time; then, the track is yours.
When you are done racing, the Driver will provide you with a race summary and a consistency report using a lap time repeatability score. Not your typical modern tool watch, MARQ Driver can also be your Virtual Pit Wall that would send audio reports directly to your Bluetooth earpiece as you're racing.
Tracking times on the tracks
With the Track Timer app, you can now observe from the stands and see how other racers are doing. Better than your simple timer, with its tachymeter accuracy, you can find out a racer's average speed by simply adding in the track distance and clicking start. So, whether you're a curious spectator or a racer looking out for your opponents, gaining information has never been easier!
Let the Driver take care of you
Widely known for its extensive fitness tracking features, the latest Garmin smartwatches are equipped with a Pulse Ox sensor to track your body's oxygen level and respiration. Additionally, through heart rate monitoring, MARQ Driver can track your stress level throughout the day and give you warnings when it gets too high. You can also log in your daily water intake as you weave through your day and see the consistency in your staying-hydrated agenda.
Take a break with the Driver
Looking to take a break from the latest Grand Prix? You can now enjoy skiing, hiking, rowing, swimming, and other activities you can possibly imagine with the help of your trusted Driver. Thanks to its preloaded apps, you can pick on your desired activity, and the Driver will guide you in getting the best out of your holiday.
MARQ Driver is equipped with three of the world's best satellite navigation systems, better known as GPS, GLONASS, and Galileo. You can pick left or right by listening to your heart and let the Driver worry about the way. Additionally, finding your way in nature has never been easier with its ABC sensors.
If exploring the wilderness isn't exactly your cup of tea you can take a Virtual Caddie wherever you go with the Driver's golfing app. Besides access to more than 41.000 CourseView maps, you can also use the PlaysLike Distance feature for a better-quality game. 
Your own 24/7/365
With one charging, your MARQ Driver could last for 12 days when used in smartwatch mode and up to 24 hours in GPS mode. Furthermore, if you are in GPS mode but also in the mood for some music, you have up to 9 hours of the Driver's guidance. 
Got lost but need to camp as the sun is setting? Worry not, as in its UltraTrac mode—a more battery-friendly GPS mode, you can use the Driver for up to 48 hours. With its battery life performance, the Garmin MARQ series sits on top of the best smartwatches on the market today.
What's in the box?
When you purchase Garmin MARQ Driver, you would receive a black tin box made of metal. First, you will find the MARQ Driver itself along with a warranty card. You will also get Garmin's signature clip-on charger and an extra silicone strap that you can easily exchange with the Driver's default bracelet using their QuickFit technology.
Should you desire more personalisation on your MARQ Driver, you can also buy its accessories at Garmin's official website. Some of the most-used additions to the Driver include straps, an external heart monitor, casing, sensors, and even a bicycle mount kit. 
All in all, Garmin MARQ Driver is the perfect fit and is well-worthy for professional racers who are looking for a multi-functional smartwatch. Besides its extensive racing-related features, other sports and day-to-day functions make it suitable even for daily use.
---
---
---