Lewis Hamilton certainly appeared to enjoy himself during the Formula One off-season Skydiving, golf, surfing with Kelly Slater, and a trip to Atlanta for the Super Bowl all formed part of his downtime, as the Mercedes driver took a well-earned rest after a year in which he clinched his fifth drivers' championship title.
With the 2019 season starting in less than two weeks at the Australian Grand Prix in Melbourne, Hamilton, Mercedes, and the rest of the drivers and teams are hard at work testing in Barcelona. As the new campaign fast approaches, will there be any stopping Hamilton from securing a sixth world title and third in a row?
Unsurprisingly, the leading bookmakers have installed Hamilton as the pre-season favourite, with his most likely challenge to once again come from Ferrari's four-time world champion Sebastian Vettel.
Interestingly, Vettel's 21-year-old teammate Charles Leclerc – set for his debut season with the famed Italian team – is third-favourite, ahead of Red Bull's Max Verstappen. In an indication of the team dynamic, we might expect at Mercedes this season, Hamilton's teammate, Valtteri Bottas, is a comparative rank outsider in fifth.
While the FIA has introduced a few minor rules to F1 ahead of the new season, a more drastic overhaul will not be implemented until 2021, meaning we can likely expect more of the same regarding the drivers and cars fighting for race wins.
Ferrari is again expected to provide the biggest challenge to Mercedes, and Bottas even believes the Italian team are "ahead", based on what he has seen in Barcelona.
We sit right opposite each other and we share the same seat in the car so we are talking quite a lot, about the car's behaviour, his feedback, my feedback.
"In testing, it's difficult to read in detail but my feeling – our feeling – is Ferrari is a bit ahead of both of us," the 29-year-old Finn said on Thursday.
"Honestly the whole field looks like it's a bit tighter than last year or the year before, but it's only guessing. You never know what people bring to Melbourne."
How well Leclerc adapts to his new surroundings could go some way to deciding the fate of both the drivers' and constructors' titles. The youngster from Monaco has arrived at Ferrari with a reputation as a future star, and the team's bosses and fans are understandably excited to see him in action. However, F1 seats don't come any bigger than Ferrari, and Leclerc is now tasked with competing for wins, alongside one of the sport's greatest champions, Vettel.
Additionally, if Leclerc turns the title fight into a three-way affair, that could have the adverse effect of handing a further boost to Hamilton as the two Ferrari drivers take points off each other. Yet, if Leclerc and Vettel can work together – both over race weekends and the course of the season – they should at least give Ferrari a strong chance in the constructors' title race.
Indeed, the new teammates seem to be gelling quickly, with Vettel revealing how they are working closely with each other in Barcelona.
"We sit right opposite each other and we share the same seat in the car so we are talking quite a lot, about the car's behaviour, his feedback, my feedback," the German said on Friday.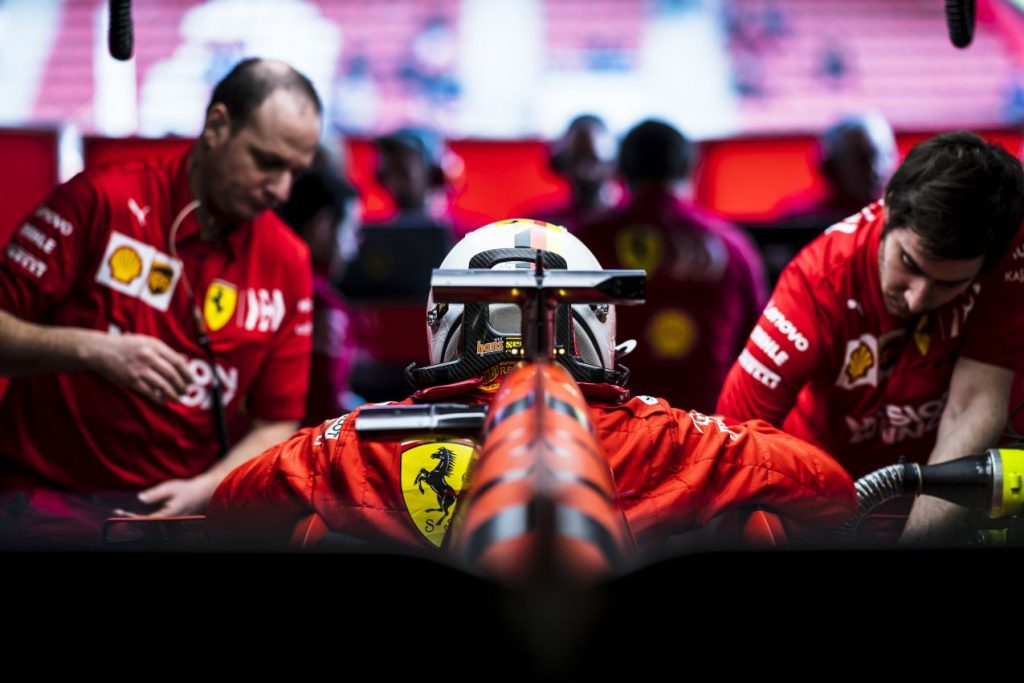 "We are listening to each other. Everybody surrounding the table is listening so as to think as many exchanges as possible. I think there were a lot of questions but not just from his side, also I've asked a lot of questions."
Hamilton and Mercedes will also have to contend with a renewed challenge from Red Bull, who are also impressing in Barcelona – their switch to a Honda engine seemingly paying off so far.
"Red Bull seem in good shape as well," Bottas added. "I think between us two the differences are not massive."
While Red Bull, led by talented Dutchman Verstappen, are unlikely to have closed the gap to the extent where they are once again title contenders, the team will expect race wins over the course of the season, thus providing another obstacle Hamilton must overcome if he is to move within one title of Michael Schumacher's record seven.
There may not be any dramatic changes to the F1 landscape for 2019, but Hamilton – who last year won 11 of 21 races in what was arguably his finest ever season – may just find a larger hunting pack this year determined to end his domination.
Whether that will be enough to prevent a fourth successive title, we will just have to see how the season unfolds. It should, at the very least, be that much more competitive.
---
---
---