8. Toto Wolff | Executive Director of Mercedes F1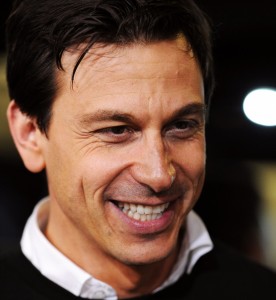 Position last year: 7
Age: 45
Bio: Executive director at Mercedes AMG Petronas, current champions
Google searches last 12 months: 1.8 million
On November 20, 2009, it was announced that Toto Wolff, a former racing driver, had bought a share of the Williams F1 and joined the board of directors of the team. He reportedly owned 16% of the shares and listed
the company as the first F1 Team on the Frankfurt Stock exchange. After an eight-year winless streak, Wolff led
Williams to a Grand Prix victory in Barcelona in 2012. In 2012 he was named Executive Director of Williams F1. On
On January 21, 2013, it was announced that Wolff had parted ways with Williams F1 to become an executive director
of the Mercedes AMG Petronas Formula 1 Team. In addition to joining the team, he will also acquire a "significant
minority interest" in the team. Wolff is expected to take over the coordination of all Mercedes-Benz motorsport
activities, a responsibility previously held by Norbert Haug.
Wolff sold his remaining shares of the Williams team in 2016. His other investments include BRR Rallye Racing,
one of the largest rally parts dealers in Europe. Wolff is also co-owner of a sports management company with
Mika Häkkinen and was involved in the management of racing drivers such as Bruno Spengler, Alexandre Premat
and Valtteri Bottas.
8
---
---
---